Technical Diploma in Road , Civil Surveyor Course in Attock 331-5999937 - Attock
Thursday, 9 March 2017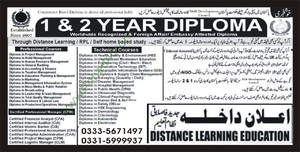 Contacts

shahzad
3315999937
Item description
Technical Diploma in Road , Civil Surveyor Course in Attock 331-5999937 , Land surveyors have to be skilled in both measurement and resource management , Competancy Based , Distance learning course , They collect and analyse information about land, water and other natural resources, and help manage our environment by mapping the earth and the sea floor, establishing property boundaries, and providing accurate data for engineering works
Geodetic surveying
Cadastral surveying
Engineering surveying
Mapping
Computer Aided Design (CAD
Satellite navigation systems
Geographic Information Systems
Data management and land administration
Recognised and supported by the Inspire Institute of Surveyors
A nationally recognised qualification that equips you with the skills to work as a land surveyor.
Enables you to apply for associate membership of the New inspire Institute of Surveyor
Please note, this programme was previously known as the National Diploma in Surveying.
There are many employment options for diploma graduates and pathways onto further study.